WP's HP: HOME | [Bike]: Bike Tour Tips ~ Cycle Around The Noris | ?Help? | Deutsch
---
WP's Bike Corner
The a bit different bike - recumbent
Ergonomic vehicle in the non-virtual world (thus in First Life ;-). Not that it moves by its own, but even a cyclist without athletic ambitions notices the difference. For instance if one reaches an average speed of just above 20 km/h (12.5 mph) with the (race) MTB one will achieve close up to 25 km/h (15.5 mph). Provided that it is an adequate course, thus neither extreme off-road nor exclusively on tear by head wind.
Cycling on a recumbent stresses the legs, however, anyhow it goes easier. While one really feels a MTB tour of 100 km (about 62 miles), with the recumbent some additional ten miles are easily possible.
The faster one can cycle the more advantage lies on the side of the recumbent. A recumbent without fairing is somehow comparable with a racing bicycle. A completely streamlined recumbent is not to beat - almost any speed record is held by recumbents. But they have their weight and their price.
The advantages
The relaxed sitting position permits a large range and a great view. (Gentle to the backside ;-) Also one's wrists are relieved.

The reduced wind resistance improves the average and maybe the maximum velocity. (Comparison: at a certain tarred drop one reaches about 55 km/h (approx. 34 mph) on a MTB in racing position and with power, with just rolling recumbent easily more than 80 km/h (approx. 50 mph))

In a frontal crash the crush section starts far away from one's nose. And one does not fall so deep.
The disadvantages
Difficult (better: unfamiliar) to ride; due to the low center of gravity no correction of driving faults by balancing with the weight is possible. Perhaps somehow a bit rough run due to the twitch/torque of the back and forth moving legs.
Center steering recumbents are a special theme, but interesting to ride (even without holding on!).

No sight over parking cars, fences, etc. and one is hard to see - but easy to kill. What's about a pennant?

No relief of the leg muscles by using the weight. No chance to throw your weight on the pedal. So have much fun in long slopes. Above about 10% it starts to get really annoying, nevertheless even 17% are feasible.
Tips
Riding a recumbent is different - therefore check during a longer test ride whether a recumbent holds what you are expecting.

In all probability slipping off the pedals results in a fall. Thus mount racing locks at least, namely such with plastic cage and loose tighten belts. Or just try click pedals (so-called »clipless« or »with cleats«; somehow similar to a ski binding). Not, however, the racing version, but e.g. Shimano SM-SH 55 plates with multi-exit option. Choose as pedals e.g. Shimano PD-M 323 or 324, which can be used together with normal shoes, too. Therefore one can drive »clicked out« with them as well. In general one should note that due to more shifting phases, light MTB shoes are the better choice instead of pure racer shoes.

Revolutions is what you need, especially in slopes, i.e. restrictions in changing gear will get on your bones. Ensure to have enough gears.

Danger of sunburn. Possibly you lie in the sun like on a deckchair. And consider wearing (sun-) glasses with UV protection.

One additional note: Beware of horses, with or without riders. They fear recumbents and even they bolt - especially when one uses a pennant. Although when one slowly approaches only or even stops. The critical distance is about 5 to 10 meters (15 to 30 feet).
First experience: Quantum by Arved Klütz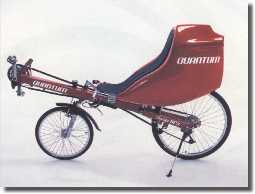 www.quantum-toxy.de
Easy to handle - the full suspension Quantum of those times was really good-natured. In spite of the rather simple construction with a rubber buffer the rear suspension is very effective. Built with Al square tubes (unusual optics!) the Quantum is comparatively light but yet stable.
After two test rides in March 1997, in all 90 km (approx. 56 miles) on the road and gravel, I was sure: I need a recumbent even though I tipped over three or four times.

The present models look great, refer to the link on the left.
He is just sleeping during cycling: Radius Hornet Full Suspension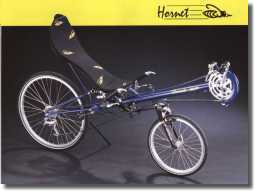 www.radius-liegeraeder.de
Especially on pavement riding the Hornet is more comfortable than a MTB and concerning cross-country capability it is in competition with a folding bike - so sufficient enough for gravel paths in the forest or if need be for field paths.
With approx. 17.5 kg (approx. 35 pounds) rather heavy (CrMo frame), but thanks to the in-ride lockable rear suspension (really recommended) slops up to 15% are to be mastered with bearable effort.
The deep located indirect steering gear is very agreeable - (nearly) always one gets one's feet on the ground just right in time. Besides it is a good protection against risk of injury when upsetting. Result: A great bike with a lot of intelligent detail solutions which is worth its high price.
Since April 1997 the hunter in the speed limit area »Zone 30«. And concerning distance, almost one time around the world.
Cycles with wolves: Tundra FS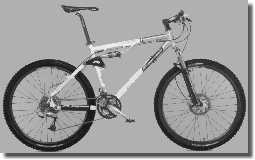 www.steppenwolf-bikes.com
Else often I'm on tour otherwise, when it is stormy weather or in snowy winters and for raging - live richly... However I've chosen the Magura HS 33 hydraulic brakes again. And meanwhile it's switched to a new frame of 2007.
Advantageous are the wiring exclusively at the upper tube, the damper position out of the splash region and, of course, the low weight Al frame.
The switch from Grip-Shift towards Rapidfire levers takes a bit of time. But the gear change works very fast and precisely. Besides the grip space and possibilities are slightly reduced. Therefore additional bar ends are recommended.
Really a very impressive vehicle, even hill-up. On tour since May 2003.
Just a matter of setup
Exact saddle height of the MTB - I have to look up it, too, e.g. according to Handbuch Radsport, BLV, 1994, p. 44:
saddle height = standover × 0.893
measured between top level of saddle and middle of bottom bracket.
And if no pocket rule is available at the moment? Adjust by just putting your heel on the pedal with unbend leg. Then your leg is not completely unbend when the ball of your foot hits the pedal.
You can calculate the frame height of a racer out of the standover by a factor 0.65 and of a MTB by a factor 0.61.
Last but not least
Tips for cycle around the Noris (Nuremberg):


Some selected bike tours (suitable for recumbent) in the Nuremberg region:
Enjoy these couple of links for some a bit different vehicles:
---
©WP (1998 -) 2012
http://www.fen-net.de/walter.preiss/e/bike.html
Update: V8.4, 2012-03-02